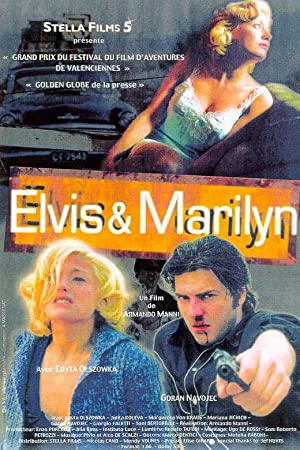 An: 1998

Durata: 93 min

Gen: Comedy, Drama

Scenarist: Armando Manni

Regizor: Armando Manni, Massimo Torre

Actori: Edyta Olszówka, Goran Navojec, Giorgio Faletti

Info The film chronicles the melancholy journey of two celebrity look-alikes chasing their dream of la dolce vita in Italy. Romanian Marilyn Monroe impersonator Ileana and Bulgarian Elvis double Nicolaj win a look-alike contest in Buch...

Traducator: Virgil G.N.

Uploader: Virgil G.N.

Data: 2023-05-18

Ora: 19:07:00

Descarcari: 39

Comentariu: Elvjs e Merilijn (1998), aka Elvis şi Marilyn, un interesant film italian, ce are legătură cu România atât prin prisma subiectului cât şi al unuia dintre actori. Este vorba de actriţa de origine română, Margareta von Kraus, cunoscută pentru rolul "Mary" din filmul Astă seară dansăm în familie, singurul în care a jucat în ţară înainte de a imigra în Italia. Am transcris inclusiv replicile în limba "română" în forma originală folosită în film, deşi cred că ar fi putut suporta unele "îmbunătăţiri". Când o să vedeţi filmul, o să înţelegeţi ce am vrut să spun prin aceste ghilimele. Deşi unicul script pe care l-am avut la dispoziţie este în limba franceză, am ales ca traducerea să o fac pentru pista audio în limba italiană, cea originală, pe care am considerat-o mai potrivită. Am menţionat acest lucru pentru că cei care veţi dori să-l vedeţi cu dublajul în limba franceză, s-ar putea să aveţi surpriza ca subtitrarea să nu vi se pară chiar bine sincronizată. Fac precizarea că traducerea filmului a fost realizată parţial şi prin titrare manuală şi traducere după sonor. În ceea ce privește genul filmului, cu siguranță nu cred că poate fi încadrat conform IMDB ca și comedie ci mai degrabă thriller sau chiar horror. Traducere pentru versiunea: "Elvjs.E.Merilijn.LIMITED.DVDRip.Xvid". Vizionare plăcută!

7.0/10


Mergi sus