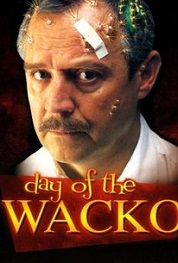 An: 2002

Durata: 93 min

Gen: Comedy, Drama, Romance

Scenarist: Marek Koterski

Regizor: Marek Koterski

Actori: Marek Kondrat, Janina Traczykówna, Andrzej Grabowski

Info 24 hours in the bitter life of a frustrated divorced teacher who stays in the vicious circle of his numerous obsessions.

Traducator: Corneliu Anghel - Subtitrari-noi Team

Uploader: corang

Data: 2021-06-13

Ora: 18:50:00

Descarcari: 59

Comentariu: Dzien.Swira.2002.PL.AC3.HQDVDRip.x264-4WB Den Cvoka. Frame rate: 25.000; Run Time: 1h 29min 21sec. SINOPSIS: O zi - cu ritualurile ei mărunte - din viaţa unui profesor de liceu, fost profesor universitar, divorţat, aflat în perioada crizei de la jumătatea vieţii. Adam este un personaj cunoscut dintr-un film anterior al lui Marek Kotersi. El este un bărbat ciudat, ros de obsesii şi spaime, chinuindu-se cu salariul său modest, dar romantic şi (destul de) paranoic. Sătul de elevii care rămân nepăsători la gloriile poeziei romantice, Adam părăseşte clasa, ia trenul şi pleacă spre litoral. 6 nominalizări la Premiul Vulturul (film, regie, muzică, montaj, costume, Janina Traczykówna), Polonia, 2003. Premii: Premiul Vulturul (scenariu, Marek Kondrat), Polonia, 2003; Premiul Leul de Aur (Marek Kotersi), Premiul pentru coloana sonoră, Premiul pentru cel mai bun actor - Marek Kondrat, Gdynia, Polonia, 2002. (cinemagia.ro) VIZIONARE PLĂCUTĂ! P.S. Am găsit o subtitrare pe care am considerat că nu o merita un asemenea film, cu atâtea premii şi cu o notă atât de frumoasă pe IMDB. Găsind textul în engleză, am refăcut subtitrarea în totalitate, în speranţa că am făcut un lucru bun. Rămâne de văzut. Am "îndulcit" expresiile vulgare din textul original cât mai mult posibil, pentru a nu scandaliza persoanele sensibile. Dacă mi-a mai scăpat ceva, "mea maxima culpa!" Mi-o asum. Am dat atât de multă atenţie acestui film, căci l-am găsit interesant, cu foarte multe similitudini cu ceea ce se petrece zilnic în jurul nostru, chiar dacă nu luăm nicio atitudine civică în privinţa acestora.

8.1/10


Mergi sus