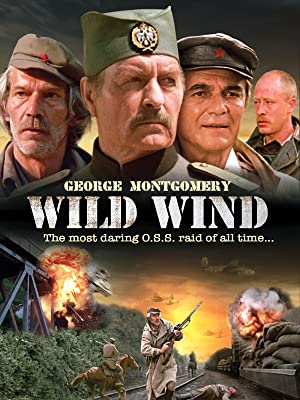 An: 1985

Durata: 91 min

Gen: Drama, War

Scenarist: Valeriu Jereghi, Aleksandar Petkovic

Regizor: Igor Bolgarin, Zivojin Pavlovic, Viktor Smirnov

Actori: Jay North, George Montgomery, Dale Cummings

Info During World War 2, a special Allied unit is formed to destroy a Nazi armored train that has been terrorizing the Yugoslavian countryside.

Traducator: Virgil G.N.

Uploader: Virgil G.N.

Data: 2023-05-23

Ora: 18:48:00

Descarcari: 88

Comentariu: Dikiy veter (1985), aka Wind Wild, aka, Misiunea "Vânt Sălbatic", un film de război, care deşi nu e foarte bine cotat pe IMDB, am ales să-l traduc din două motive: - Primul, subiectul mi s-a părut destul de interesant: În timpul celui de-al Doilea Război Mondial, o unitate specială a Aliaților este formată pentru a distruge un pod aflat în trecătoarea Zlodol din Balcani, punct obligatoriu de trecere pentru trupele germane prin care controlau partea de sud şi est a Europei, precum şi distrugerea unui tren blindat nazist care menţinea deschisă această cale şi teroriza teritoriile iugoslave. - Al doilea, este distribuţia la fel de interesantă, din ea făcând parte şi actriţa basarabeană Svetlana Toma, cunoscută nouă mai mult după rolul "Rada" din filmul Tabor ukhodit v nebo aka Şatra aka O şatră urcă la cer (1976). Traducere pentru versiunea "Wild.Wind.1986.1080p.AMZN.WEB-DL.DDP2.0.H264-SiGMA". Vizionare plăcută!

4.5/10


Mergi sus