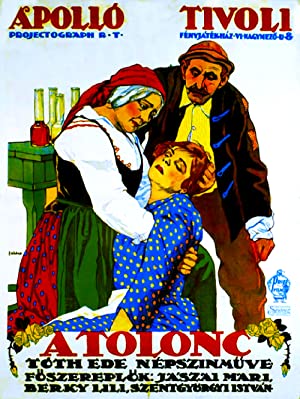 An: 1915

Durata: 67 min

Gen: Drama

Scenarist: Michael Curtiz

Regizor: Jenö Janovics, Ede Tóth (play)

Actori: Lili Berky, Victor Varconi, Mari Jászai, Andor Szakács

Info Betty (Lili Berky, Duel For Nothing), a young woman living in the country, is told by her dying father that he is really her uncle and raised her as his own when her mother was sent to ...

Traducator: Virgil G.N.

Uploader: Virgil G.N.

Data: 2021-04-05

Ora: 17:13:00

Descarcari: 19

Comentariu: A Tolonc [1915], aka The Undesirable, aka Indezirabila. "Sunt câteva lucruri interesante despre acest film. În primul rând a fost făcut la Cluj-Napoca (în 1914 orașul încă făcea parte din monarhia dualistă austro-ungară). Premiera a avut loc în februarie 1915 la Viena, apoi pe 20 martie 2015 filmul a fost vizionat și la Cluj-Napoca. După al doilea război mondial se credea că filmul a fost pierdut pentru totdeauna, nu s-a mai găsit nicio copie nici în Ungaria, nici în România. Dar în 2006, într-un beci al Casei Ungare de la New York (înfiinţată în 1966 pentru a servi comunitatea maghiară din SUA) s-a găsit o copie aflată într-o stare foarte proastă. A fost adusă la Budapesta unde a mai stat câţiva ani iar în 2014 a fost complet restaurată. Munca de restaurare a durat un an de zile, a fost nevoie chiar de retușarea manuală a 70426 de cadre." Titrare manuală şi traducere pentru versiunea "* A Tolonc 1915 720p BluRay x264-HyperX". Vizionare plăcută!

6.3/10


Mergi sus